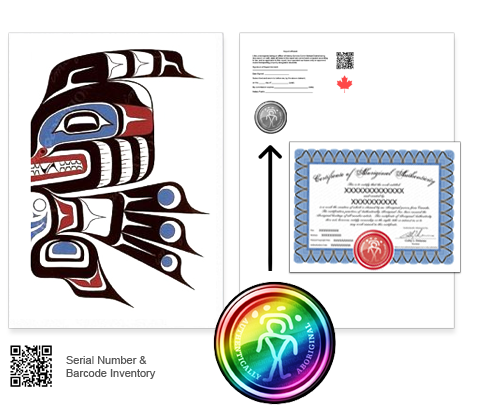 Authentically Aboriginal Inc. was created on March 13, 2007. The purpose of the organization is to deliver a certification service to the Aboriginal art community that enables such Artists to differentiate their art from those artists who simply create "Native Art", and an invaluable service to patrons who wish to source Authentically Aboriginal art. Authentically Aboriginal standards and practices: encourage consumers to purchase authentic art from Canadian Native Artists; increase the value of Aboriginal art; develop a common process authentication accessible by all Aboriginal artists in Canada, and protect buyers from unknowingly procuring non-Aboriginal created art.
Artists can access the Authentication process by filling out an online profile, questionnaire, and providing evidence of Aboriginal heritage. This first step involves simply visiting the website and providing all of the required information. Once the artist has submitted their personal profile for authentication it will be reviewed by a committee.
The final step of the process involves Authentication based on proof of Aboriginal heritage. Authentication is not dependent on the Artist's skill level, education, or quality of work produced. Artists who create Native art, and who are not of Aboriginal descent will not be eligible for the Authentically Aboriginal designation.
Once Artists have the Authentically Aboriginal designation they have the opportunity to register all of their artwork in the Authentically Aboriginal system. The system process enables Artists to upload artwork information for purpose of verification of the original work by description, through the use of identifying features (e.g. title, size, copyright date, image meaning). The online system will then assign a serial number to the uploaded image. This image is now forever linked to the Authentically Aboriginal system catalogue by reference to this serial number, and can be authenticated as a Canadian Aboriginal work of art, based on a contractual representation by the member artist to  Authentically Aboriginal Inc. that the work in question was in fact created by that artist, and is not subject to any derivative elements, or other impediments to the claims of original creation. It is important to note that Authentically Aboriginal Inc. does not in any way warrant, or represent that original copyright and/or other intellectual property rights have subsisted or continue to subsist in the work on the part of the relevant member artist, to any person whatsoever, either as a user of the service as a member artist, or as a user who relies on the service in the capacity of purchaser, licensee, or any other "consumer" or patron of any registered work, or to any other person in any other capacity. Seals and Certificates of Authentication can be adhered or attached to artwork, enabling artists, galleries, museums, and buyers to provide evidence of Authentication. The serial numbers found on the seals and certificates can be checked for Authentication on the Authentically Aboriginal website. This system guarantees that Aboriginal artwork purchased in Canada has been created by Aboriginal artist.
Users of the Authentically Aboriginal website have free access to all the registered Canadian Native artisans and can also learn about the Artist's heritage, genre of artwork, and view the entire gallery of artwork. As well, individual artists can be contacted directly through a website link, email, message board, or by standard methods if the Artist has chosen to provide their contact information. The search engine will allow users to source Artist's profiles in a number of ways including: name, style of artwork, medium used, present location, location of ancestors, etc.
Authentically Aboriginal Inc. recognizes 4 distinct and unique Aboriginal groups in Canada. These groups are First Nations (Status Indians and Treaty Indians), Inuit, Métis,and Non-Status Indians. Our organization has adopted the definition and classification of these distinct groups from the following National Aboriginal organizations: Assembly of First Nations (AFN), Métis National Council (MNC), Inuit Tapiriit Kanatami (ITK), Congress of Aboriginal Peoples (CAP), and Indian and Northern Affairs Canada (INAC).
Aboriginal peoples: 
The descendants of the original inhabitants of North America. The Canadian legal/regulatory environment recognizes three broad groups of Aboriginal peoples - Indians, Métis people and Inuit. These are three demographic categories which denote separate organizational and political institutions, as well as, in some cases, distinct heritages, languages, cultural practices and spiritual beliefs.
First Nation: 
A term that came into common usage in the 1970s to replace the word "Indian," which many people found offensive. Although the term First Nation is widely used, no legal definition of it exists. Among its uses, the term "First Nations peoples" refers to the Indian people in Canada. Generally, a - First Nations person - will be a descendant of Indian ancestry who has sufficient Indian blood quantum to be registered as an - Indian -  under the Indian Act or under a Band Custom Code, or to be registered by a Treaty organization as a "Treaty Indian". Many Indian people have also adopted the term "First Nation" to replace the word "band" in the name of their community.

Inuit: 
An Aboriginal people in northern Canada, whose ancestral origins are in Nunavut, the Yukon, the Northwest Territories, and in Northern Quebec and Labrador. The word means "people" in the Inuit language - Inuktitut. The singular of Inuit is Inuk.

Métis: 
People of mixed First Nation and European ancestry who identify themselves as Métis people, as distinct from First Nations people, Inuit or non-Aboriginal people. The Métis have a unique culture that draws on their diverse ancestral origins, such as Scottish, French, Ojibway and Cree.

Non-Status Indian: 
An Indian person who is not entitled to be registered as an Indian under the Indian Act, and who is not entitled to be registered as a Treaty Indian by a Treaty Organization; and who is not otherwise entitled to recognition as an - Indian- under the Indian Act, or under the Custom Code of a First Nation. Proof of Aboriginal heritage has also been adopted by the respective groups named. It will be mandatory that artists provide proof of Aboriginal heritage. Proof of heritage will be required at the same time of uploading personal profile. This enables Authentically Aboriginal Inc. to guarantee that all artists are of Aboriginal ancestry. The following documentation will be needed:
First Nation:
- Registration as an Indian (Status Card - provided by INAC)
   or
- First Nation membership (Status card - provided by your First Nation or INAC)
   or
- Treaty Organization membership (As may be proved by registration of the individual with a Treaty Organization)
Métis:
- Métis Nation membership card (provided by MN regional office or Head Office)
Inuit:
- In the absence of a legal standard a genealogical standard will be adopted until such time that a legal standard is created 
   (a practice being used by the ITK)
Non-Status:
As non-Status Indians do not have membership as First Nations or Métis we have devised a system that will allow non-Status Indians to still have access to becoming authenticated. This will involve two steps; proof of Aboriginal heritage somewhere in your Family Tree, and the endorsement by five Authentically Aboriginal Artists that have already been authenticated. Our organization feels this will meet requirements and satisfy all Aboriginal artists, groups, and partnering organizations. We will confirm that this requirement is deemed appropriate through consultation with an advisory panel of artist members.